~~~~~~~~~~~~~~~~~~~~~~~~~~~~~~~~~~~~~~~~~~
Walking Healthy!
~~~~~~~~~~~~~~~~~~~~~~~~~~~~~~~~~~~~~~~~~~






Over the next two weeks, The Weekly Beet will be covering your feet with nothing but pure comfort! This week, The Weekly Beet reports on a pair of shoes that will definitely make you stand tall! Mary Kent tries on a pair of MBTs, revealing the healthy benefits of some pretty miraculous sneakers.


Has slouching, chronic back pain, and aching joints and muscles got you completely bent out of shape? If so, it's time to straighten up and listen to this unBEETable solution! With over 26 million people in America suffering from back pain, could the answer be something as simple as a change in shoes? A company by the name of Swiss Masai, whose therapeutic sneakers are flying off the shelves, is saying yes!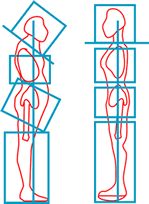 Karl Muller, inventor of the MBT supershoe, otherwise known as Masai Barefoot Technology, spent many years studying the theory of biomechanics and physiology. When he healed his own back problems by walking barefoot, Muller came up with the idea to create a shoe that would keep the foot in its natural state while walking over hard surfaces. By observing in detail the walk of the Masai warrior, who never wears shoes and never experiences back or joint pain, Muller found the inspiration he needed to share his discovery with the world.

The beauty of the MBT lies in the multi-layered sole. Not only does the sole add inches to your height, it goes to work to strengthen core muscles so they become more active. With a curved heel, the entire body, not just the calf muscles are activated - even while standing! As the muscles work harder, better posture is created. The shoes might look like combat sneakers, but the affect they have on the entire body is pretty incredible! We are walking testimonies of less back pain and straighter posture.

We have been wearing our MBTs for the past month and here's why we can't take them off:



Improves posture.


Activates unused muscles.


Tones and shapes thighs, calves, and buttocks.


Assists joint, muscle, ligament, and tendon injuries.


Alleviates stress on knees and hip joints.


Helps back, hip, leg, and foot problems.


Gives the entire body a constant work-out.


Reduces cellulite and varicose veins.


MBTs come in many different colors and shapes. Click here to see the different styles!

It's time to lace up a pair of MBTs! Don't miss a Beet. Stay tuned for next week.

Love,

Mary Kent

PS. Mary Kent is wearing shoes from MBT, jeans from Blue Cult and jacket from Target.

PPS. Check out Daryn Kagan, founder of darynkagan.com, on Ladies Who Launch.



The Weekly Beet is simply exciting! Never before has Alternative Medicine been

researched and presented in such an 'upbeet' way."





- Dr. Andrew Weil



"The Weekly Beet is a great gift to the world of health and happiness. It is also a testimony to the power of one person to make a difference in the world. If you have a dream and a passion, now is the time to step forward and make your dreams come true!"





- Joshua Rosenthal, Founder of The Institute of Integrative Nutrition