~~~~~~~~~~~~~~~~~~~~~~~~~~~~~~~~~~~~~~~~~~
Over The Hangover!
~~~~~~~~~~~~~~~~~~~~~~~~~~~~~~~~~~~~~~~~~~




This week, The Weekly Beet reports on the damaging effects of alcohol, teaching the essentials on protecting the body from its harm. The Beet Girls sip on freshly squeezed juices, as they reveal their secrets to preventing a New Year's hangover!

How many of you are planning to start 2006 well-rested, energetic, and happy instead of depressed, nauseous, and with a splitting headache? Unfortunately, there won't be many as New Year's Eve seems to have become the perfect occasion for people to go overboard with their alcohol consumption. Every year, the average American drinks about 25 gallons of beer, 2 gallons of wine, or 1.5 gallons of liquor. Now, that's what we call a lot of ethyl alcohol! Alcohol, which is in fact a toxic substance, is easily absorbed by the body and acts like a diuretic drug that severly dehydrates the body, depleting it of essential vitamins and minerals. The fact that alcohol dehydrates and draws out water from all parts of the body, especially the brain, is the reason why people feel light-headed when drinking and wake up with a hangover! Alcohol severely damages the liver, the digestive and the nervous systems, and has the potential to affect every organ in the body. A high consumption of alcohol is linked to arthritis, cancer, heart disease, hyperglycemia, kidney and liver disease, depression, anxiety, insomnia, and can even lead to addiction.

The real way to avoid a hangover is to stay sober! Unless you plan to pass on Champagne when the ball drops, follow these extremely helpful tips to "beeting" a hangover.

Before going out: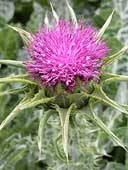 Drink plenty of water before leaving the house.


Take milk thistle to cleanse and strengthen the liver.


Drink a glass of almond milk or a tablespoon of olive oil to coat your stomach.


Take a vitamin B complex.


Have a snack before going out. Avoid drinking on an empty stomach.



During the night out:



Drink plenty of water in between drinks.


Remember to eat a big dinner.


Monitor your alcohol intake during the course of the evening.


Try and stick with the same beverage all night. Mixing drinks will only get you in trouble.


Take Drink Ease if you know you're going to have one too many.


Drink plenty of water before going to bed to avoid dehydration.

For the morning after:



Mix Emergen C in a glass of water.


Avoid coffee.


Take a probiotic.


Try Boiron's Nux Vomica.


Drink vegetable or fruit juice.


Eat greens to cleanse the blood.


Eat a potassium-rich kiwi or banana.


Exercise.
Take a sauna. Sweat out those toxins!


Drink water throughout the day.


We say make health your number one resolution for 2006! Don't miss a Beet. Stay tuned for next week.

Love,

Mary Kent

PS. Mary Kent is wearing a blazer from Chinatown in San Francisco. She is drinking an Innocent Juice.

PSS. Check out Lindsey Wieber and Gwen Whiting Co-Founders of The Laundress, on Ladies Who Launch.